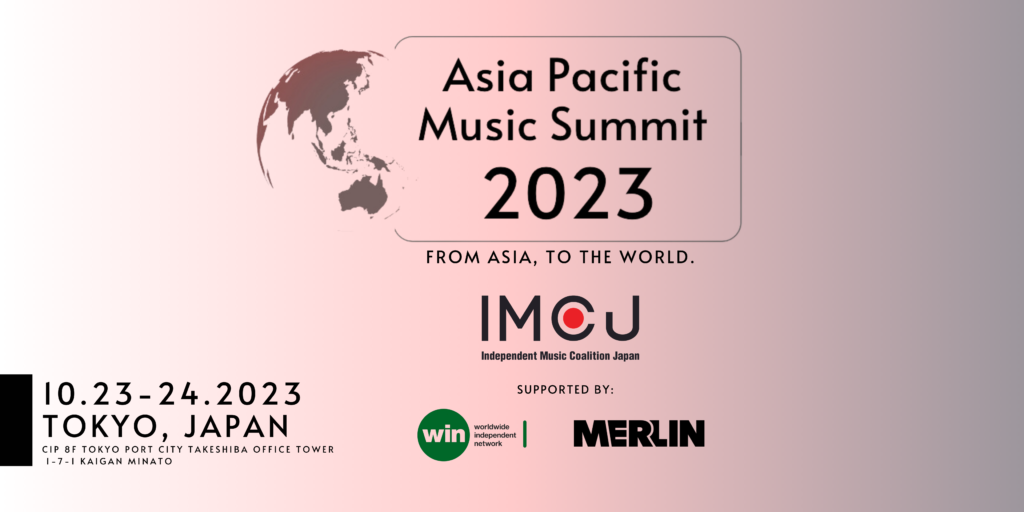 The second Asia Pacific Music Summit, organized and hosted by IMCJ with the support of WIN and Merlin, is set to take place on 23- 24 October 2023 in Tokyo, Japan.
The Asia Pacific Music Summit aims to gather music business leaders, entrepreneurs, and change-makers from all corners of the region to engage in meaningful and practical discussions on the main challenges facing the rapidly changing regional music ecosystem, as well as innovative and equitable solutions that could forge unprecedented cross-border cooperation.
Participants will gather on 23 October from 10am to 5pm for a day of informative panel discussions and networking opportunities aimed to facilitate information sharing between Asia-Pacific music markets.
Delegates from the WIN APAC Alliance will then meet on 24 October from 10am to 12:30pm to discuss alliance building strategies. Observation of the meeting is possible on a select basis per request.
In addition to being the first in-person edition of the event, the Asia Pacific Music Summit 2023 will also broadcast online, enabling participants to join from anywhere in the world.
This important summit is the first major step in creating a more unified and vibrant regional market that will introduce the very best of the music industry from Asia to the world!
Event Details:
【Date and Time】
23 October 2023 – 10:00am to 17:00 (Doors open at 9:30am)
24 October 2023 – 10:00am to 12:30 (Doors open at 9:30am)
【Location】
In-person: CiP 8F Tokyo Port City Takeshiba Office Tower, 1-7-1 Kaigan Minato, Tokyo
Online: ZOOM link forthcoming
【Cost】
Free of charge
【RSVP】
Please use this form to RSVP for the panel discussions on 23 October 2023. The deadline is 20 October 2023: https://forms.gle/36DG3rWnpusiA58JA
** Panelists are NOT required to RSVP, however all attendees are. In-person spaces are limited and will be granted on a first-come-first-served basis. All in-person attendees should bring an ID and their business cards.
** Attendance to the WIN APAC Alliance meeting on 24 October is on an invite-only basis.
【Host】IMCJ
【Sponsors】WIN, Merlin
Timetable:
9:30AM – Doors Open
10:00AM – Welcome and Introduction
IMCJ Chairman: Yushi Yamashita
10:10AM – Greetings from WIN
WIN President: Noemí Planas
10:20AM – Panel: Local DSPs and Streaming Marketing in Asia
Moderator: Akira Nomoto (Merlin Japan)
Panelists: Jeffrey Chiang (Fluxus/LIAK), Gu Shiyuan (Netease Cloud Music), Chee Meng Tan (blackx)
11:00AM – Discussion: Optimizing Short Form Video Content for APAC Audiences
Panelists: Kazutaka Sugimoto (INCS toenter), Oki Itoh (ByteDance/TikTok), Riccardo Mazzoni (Music Yes)
11:40AM – Coffee Break
12:00PM – Panel: Post-COVID Live Entertainment across APAC Region
Moderator: Dylan Pellett (IMNZ/WIN)
Panelists: Keith Tan (Slate Entertainment), Priya Dewan (GigLife Pro), Leo Lu (Charisma Tanuki)
12:40PM – Lunch Break
13:45PM – Panel: Opportunities in Emerging Asian Markets
Moderator: Brendan Gaffney (IMCJ/ Music Ally Japan)
Panelists: Martin Zenker (Goethe Musiklabor Ulan Bator), Abhisek Bhadra (Kathmandu Jazz Conservatory), Ian Monsod (Kroma Entertainment), Michelle Nguyen (M.A.U. Collective)
14:25PM – Panel: Supporting Successful Music Export across APAC
Moderator: Yusuke Nakagawa (Asobisystem)
Panelists: Hiroki Shirasuka (Giant Artist Management), Georgiev Tinko (Kanjian Music), Zoe Wang (TAICCA), Brandon Friesen (The Pride Management)
15:05PM – Coffee Break
15:20PM – Panel: Better Metadata Management/RDx Integration
Moderator: Takayuki Oki (Columbia Japan)
Panelists: Kaoruko Hill (ByteDance), Noemí Planas (WIN)
16:00PM – Panel: Strengthening the APAC Environment for Cross-border Royalty Collection
Moderator: Tak Yamazaki (Field-R/ NexTone)
Panelists: David Vodicka (AIR/MEDIA ARTS LAWYERS), Peter Mason (Wiggin LLP)
16:40AM – Closing
IMCJ Chairman: Yushi Yamashita
17:00PM – Reception: Drinks Powered by WIN
Contact:
In case of any questions, please contact:
Brendan Gaffney
brendan@imcj.or.jp